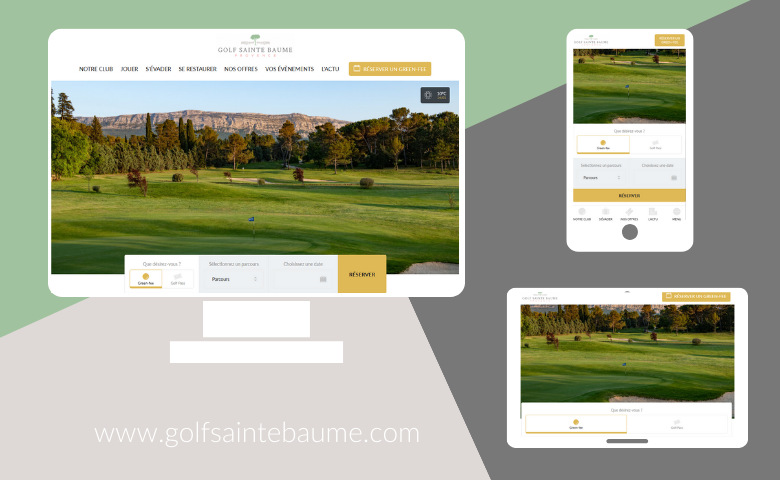 A new website with new features
We want our new website, with its user-friendly design, to give you a smoother, more enjoyable user experience on your computer, mobile or tablet.
New pages that make your life easier!
– OUR CLUB: find out more about the history of our golf club, access golf information directly, check out our proshop and discover what equipment and services the club offers.
– PLAY: explore our golf course and driving range in detail, find out more about our golf lessons and don't miss any of our tournaments.
– GETAWAYS: find out what activities are available near our golf club
– OUR OFFERS: see all our special deals, member benefits, golf pass and golf gift vouchers.
– YOUR EVENTS: organise your corporate events at our golf club.
– THE NEWS: this page features all the latest news about OPEN GOLF CLUB, our unmissable events, and tips and advice on improving and perfecting your golf skills.
Book online at the best price
Booking green fees online has never been easier! As you browse our website, a 'Book green fees' button is permanently displayed, so you can book your tee-off time at the best possible price! Golf club members can also book a tee-off time using the "Member access" button.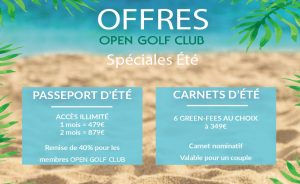 Summer 2021 Special Offers
Take advantage of the summer to benefit from our passports and summer coupons, and play on 11 exceptional golf courses in outstanding conditions. All OPEN GOLF CLUB members can enjoy a 40% reduction,. The golf courses are Le Touquet, Hardelot, Les Yvelines, Ormesson, La Grange aux Ormes, Seignosse, Opio Valbonne, La Sainte Baume, Bastide de La Salette, Servanes, and La Grande Bastide. These offers are valid from June 21st to August 31st, 2021.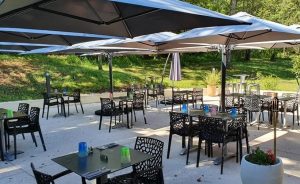 Opening of the Restaurant du Golf de la Sainte Baume from May 19 !!
Following the government announcements concerning the progressive deconfinement, we are happy to inform you that the entire team of the restaurant Golf Sainte Baume, located at Nans les Pins, is preparing to welcome you again as of Wednesday, May 19.
You can again have a coffee or a drink before or after your round of golf and enjoy the terrace every day for your lunches.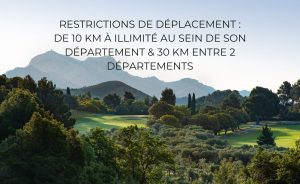 Good news! The mileage limit for golfers increases from 10 to 30 km!
We are very pleased to announce you that the mileage limit for golfers increases from 10 to 30 km!